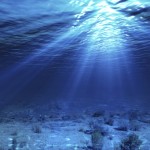 "The oceans are so vast and deep that until fairly recently, it was widely assumed that no matter how much trash and chemicals humans dumped into them, the effects would be negligible. Proponents of dumping in the oceans even had a catchphrase: 'The solution to pollution is dilution.'
Today, we need look no further than the New Jersey-sized dead zone that forms each summer in the Mississippi River Delta, or the thousand-mile-swath of decomposing plastic in the northern Pacific Ocean to see that this 'dilution' policy has helped place a once-flourishing ocean ecosystem on the brink of collapse."
—National Geographic
The Blue Ocean Environmental 4-stage threat proclamation
The threat to our oceans is real. Stories of species dying off, fish being inedible, and water being unsafe appear regularly in mainstream media. Based on these repeated and escalating events, and extensive knowledge on the topic of ocean pollution, Blue Ocean Environmental has issued a 4-stage threat proclamation concerning the health and future of our oceans:
Stage 1: Irreparable damage inflicted on the oceans (this has already happened and continues to happen)
Stage 2: Mass die-offs of sea life (we are experiencing this now)
Stage 3: Human famine caused by the die-off of critical food species
Stage 4: Complete destruction of sea life worldwide, resulting in starvation for millions of people

Why cleaning and protecting the oceans is vital
The little girl in the photo above is working. She and her family depend on the ocean for their food and livelihood. When the ocean is unfit to eat from, or worse, entire species of sea life vanish, people like her will lose their only means to earn a living along with their primary source of food.
It's not too late to stop our march toward Stage 4, but current practices absolutely must change in order to avoid further destruction of sea life and human life. 
It is environmentally responsible and necessary for a sustainable planet.
It preserves the viability of the ocean as a food source.
It reduces waste and promotes recycling of materials.
It creates jobs and economic opportunity.
Learn more about our three areas of focus: processing fish heads for protein, recycling ships, and cleaning the ocean floor.